Gait & Running
If you have pain with walking or running, there are likely to be contributing factors from the way that you move and load the joints and tissues in your body which can be assessed and adapted to provide relief and minimise injury risk.
Gait and running analysis with RS Footscan
Ultimately running is a skill and therefore can be assessed and coached to optimize your performance. We provide specialised gait and running assessments to analysis you, your posture and your training regime.We provide a highly detailed gait analysis using the latest technology, an RS Footscan. RS Footscan provides an accurate 2D and 3D analysis of static, balance and dynamic measurements with the highest recording speed available on the market, providing a highly sensitive and more reliable gait and postural analysis. Phits technology is proven to be the most accurate, bespoke device available today with 0.1mm of accuracy and over 8 million corrective measurement combinations.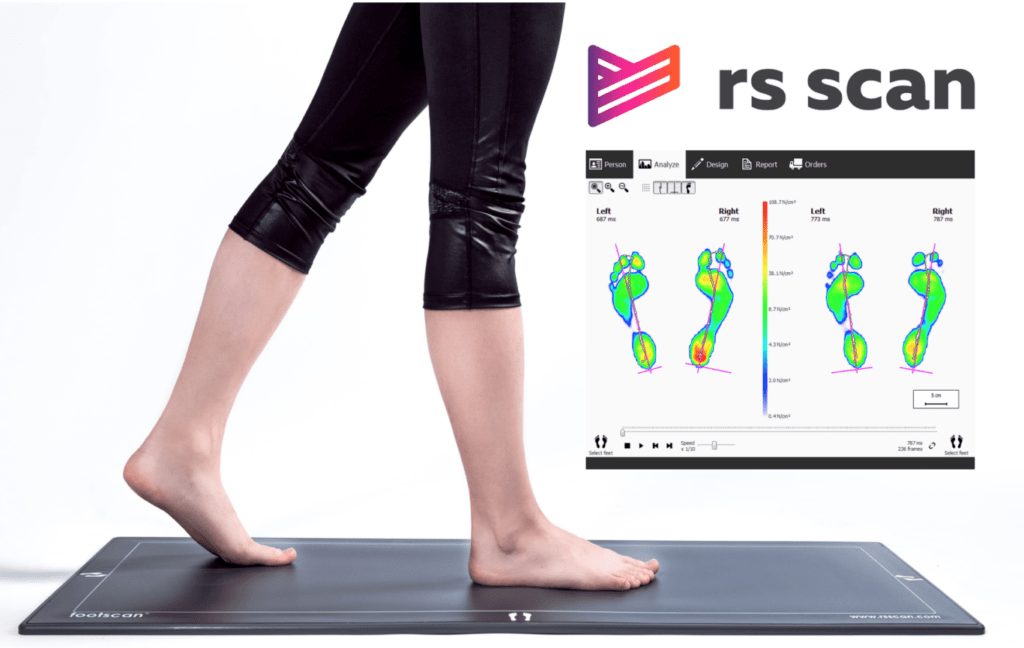 Our specialised gait and running analysis consultation includes the following:
A full history of your symptoms and your activities
A thorough physical examination of the foot and ankle will be undertaken, and any further assessment deemed necessary by the physiotherapist
Static and dynamic balance measures using the RS Footscan
Gait assessment using RS Footscan
Video gait analysis if indicated
In depth discussion with the physiotherapist on findings and recommendations
Following a specialised biomechanical assessment with your physiotherapist, custom orthotics, called Phits, can be recommended to improve your foot posture during gait, offloading certain joints and muscles to reduce pain and injury risk.
The Footscan results are then used to accurately design Phits 3D printed orthotics, using dynamic 3D print technology designed by HP and Materialise, based on a scientifically proven foot model which has been developed over the past 10 years. The orthotics are manufactured by Materialise, the largest 3D print company in Europe in Belgium, and the finished product is sent to the clinic within 2-3 weeks. The orthotic shells have a 2 year warranty and there are a range of top cover options to choose from, including 3 styles of D3O; the leading impact protection material.
Custom Orthotic Package
Following a separately priced initial consultation with a specialist physiotherapist including history, physical examination and Footscan assessment, our custom orthotic package starts at £295 which includes:
A pair of bespoke 3D printed custom orthotics
A follow up consultation call at 6-8 weeks
Phits insoles fit in to the majority of shoe types, including specifically adapted designs for Football, Running, Cycling, Golf and Skiing for optimal functionality. There are also options for narrower day to day footwear and even tailored safety insoles for workers boots.